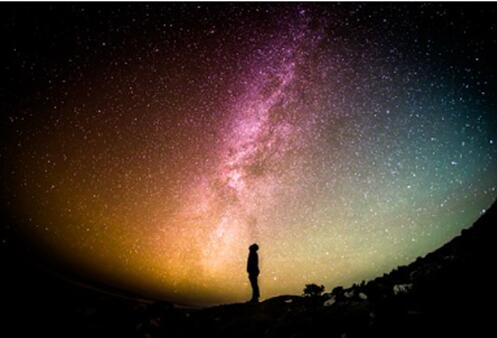 Source of pictures: Pixabay.com
"Twinkle, twinkle, little star. How I wonder what you are!" As soon as Daniel came home, he heard Mom was singing in the kitchen. As a child who looks at things rigorously, Daniel went to the kitchen and said, "Mom, there is something wrong with your song. How do the star twinkle?" Mom stopped cutting vegetables and said casually, "It's just a song. How do you know that the stars won't twinkle, just like people blink their eyes?" Mom even blinked her eyes. Daniel was amused by Mom, but he was still unconvinced, "Want a bet?" "Why not? Don't cry when you lose," Mom agreed readily.
"So, when will you take me out to watch the stars?"
Mom realized that the point was not about the bet, but going out. However, in order to prove she was right, she decided to go to the Sunset Park with Daniel on Saturday night to watch the stars.
Sunset Park was located in the suburbs. Unlike in urban areas where there were high-rise buildings and light interference, the night sky there was dark and starry. Mom and Daniel sat on the lawn and looked up at the stars. Daniel looked at the stars without blinking his eyes until his eyelids got tired. Then he lowered his head and said, "Mom, I've been looking so long. The stars have not blinked at all."
Mom put her finger on her lips and said mysteriously, "Don't worry. Just keep watching."
So Daniel had to continue to look up at the stars. It's been a long time since he had seen such a beautiful and clean sky. The stars were like precious jewels hanging in the sky which were blacker than ink. He found suddenly that the stars were really twinkling, like blinking eyes. Daniel was so curious that he couldn't help asking, "Mom, I did just see the stars twinkling. But why do the star twinkle?"
Mom explained, "The light from stars has to pass through the atmosphere before we can see it. The atmosphere has many layers, like an onion. The temperature and air density of each layer are different. When light passes through these layers, it deflects its direction, just as it passes through a row of lenses with different angles. But they are a little different. These 'air lenses' are not fixed because air flows. As the atmosphere churns, the deflection of light changes. So it looks like the stars are blinking."
Daniel asked, "If there is no atmosphere, they will not twinkle, right?"
Mom lowered her head and said, "You are right. The atmosphere plays an important role in protecting us from cosmic rays. But it's also a barrier that obstructs astronomical observations. This is why most observatories are built in high mountains, deserts and areas where the air is thin. Do you remember the pictures taken by the Hubble Space Telescope? People send telescopes into space to take clear pictures of distant nebulae."
Daniel remembered the stunning picture of nebulae he had seen in a magazine. The beautiful nebulae are like whirlpools, so eye-catching that people can't help unraveling the mystery of them. Maybe this is just the charm of the universe that Dad had said.
Author: Huang Jing
本文来自:中国数字科技馆
特别声明:本文转载仅仅是出于科普传播信息的需要,并不意味着代表本网站观点或证实其内容的真实性;如其他媒体、网站或个人从本网站转载使用,须保留本网站注明的"来源",并自负版权等法律责任;作者如果不希望被转载或其它相关事宜,请与我们接洽。
[责任编辑:陈小莉]